Parts for Garage Doors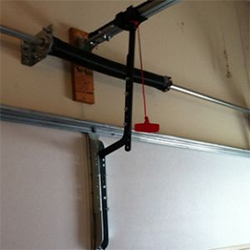 We have great prices on high quality dependable garage door openers and other parts you may need in your area and all surrounding areas! We offer quick installations usually the same day of your call. Also, if you purchase an opener from a store, we can install it for you at a very competitive price. We beat Home Depot, Lowes, and Sears prices.
We carry quality CHI manufactured garage doors at great prices. When you call for a new door estimate we will never quote you a price on cheap, low quality, or thin doors. We believe that it is worth the few extra dollars to have a higher end door that will last longer, perform better, and require less maintenance.
We specialize in the replacement of broken garage door springs. Our technicians will always have the specific parts that are needed to get the job done right and to get you up and running again quickly. Please call today to arrange an appointment, and remember that we are also here to meet all of your garage door and electric opener needs in your area. You can have the finest garage door in the world but without a functional garage door opener, it's just a wall. When you need a new garage door opener or remote, our company offers durable products with the best warranties in the industry.
24 Hour Garage Door Parts
Cables are a very important part of your garage door going up and down level. Cables carries the entire weight of your door. If your cable is worn, starting to break, or the cable off the drum, it will cause your garage door to derail and possibly injure you, your family or your car. Your cables should be checked once a year. Hinges are a very important part of the folding action of each section as it goes up and down. The hinges keep the sections in proper alignment. There's different gauges (thinkness) of hinges made. Thicker ones have a Lifetime Warranty. Thinner ones often bend or break and they should be checked for wear once a year.
Most occasions it'll be less expensive to replace both torsion springs at the same time, instead of each one on separate trips! We recommend replacing original torsion springs with a galvanized Lifetime Warranty torsion springs. We also carry springs for any budget. Rollers are the main component that keeps your garage door rolling smoothly and safely. The nylon bearing rollers have a Lifetime Warranty. A true sign of roller failure is the rollers themselves come out of track. They should be checked once a year before failure.
We also provide the following options and protection like durability, lifetime warranties, multiple safety features and security. Rolling code technology changes the security code automatically each time it is used, to prevent break-ins. We also offer Horsepower levels - for carriage house style doors, Variable drive systems – quiet, durable belt drives and inexpensive chain drives more than just handling the task of opening and closing your garage, a high-quality, durable garage door can increase the value of your home and even improve its security. Give us a call today!